Rhino Art- Let Our Voices Be Heard is a Global Youth Movement
Objective: In an effort to fight the war against poaching, Rhino Art involves local communities that are at times the silent witnesses to the slaughter and all forms of Wildlife Crime. We increase conservation awareness amongst the youth and cultivate a next generation of wildlife 'ambassadors' that has a vested interest in the protection of rhino and other endangered species. Rhino Art - 'Let the children's voices be heard' project's aim is to gather the largest number of children's 'Art Voices' ever recorded in support of Rhino Protection, and to use these 'Hearts and Minds' messages from the children of Africa, as a worldwide call to action against poaching.

Situated in Robertson- Van Loveren provide a popular brand of Wine and create employment to hundreds of people in the Western Cape.
The Van Loveren vineyards have been in a family since 1937 when Hennie Retief Sr. bought some land in the Robertson area. This property was later sub-divided and Hennie started farming on Goudmyn portion "F". His wife, Jean (her maiden name was Van Zyl), disliked the farm's designation and said it stood, to her mind, for "fools and failures". As a result she persuaded her husband to rename the farm. At first they contemplated calling it Roche Rouge, after the impressive red ridge of the Elandsberg Mountain that formed a backdrop to their home.
Jean, a traditionalist, however convinced Hennie to name the farm after Christina van Loveren – an ancestor whose bridal chest was passed down for generations and remains on the farm to this day. Christina was married to the first Van Zyl to arrive in South Africa in 1699.From the mid 1990's Nico and Wynand's four sons joined the farm one after the other as they completed their studies. Today our Four cousins are the driving force behind the company. Hennie and Neil are viticulturists, Bussell is the winemaker and Phillip looks after the business side of things..
Van Loveren is South Africa's biggest family-owned winery.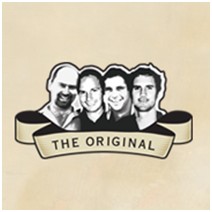 FOUR COUSINS LOGO SEEN IN MANY OUTLETS
The famous label is Part of the Retief family which have become one of South Africa's Leading Wine Brands. With the Van Loveren brand entrenched, they introduced the well-priced Four Cousins range of wines in 2000. Released in 1,5l bottles, it hit the market with a bang and is today South Africa's biggest selling bottled brand.
Rhino Run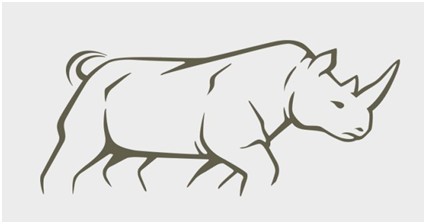 The Rhino Run brand was started by Louis Lategan which initiated by Royal Rhino and Van Loveren Family Vineyards has pooled their resources to create the Rhino Run wine range.
Royal Rhino is a registered and audited donor towards rhino conservation. The Rhino Run wines are produced in collaboration with Van Loveren. The Royal Rhino brand objective is to raise funds and awareness of the war on rhino poaching.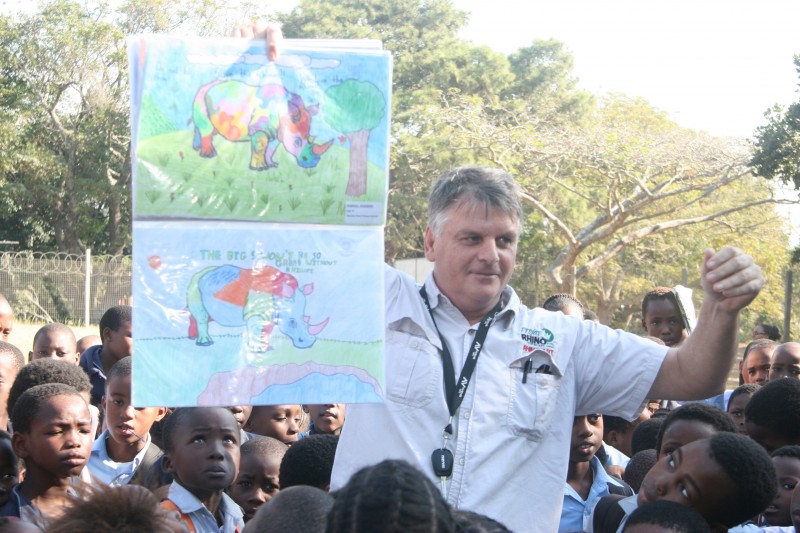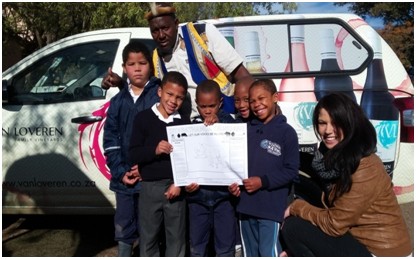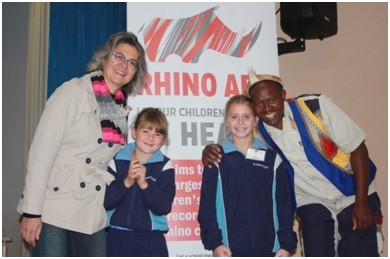 Community Development across Southern Africa
In a unique partnership, the Van Loveren brand has committed a percentage of sales to social upliftment and preservation of Wildlife with Rhino as the iconic species. In each Province and Region the product of Van Loveren is distributed in the Tourism Sector which is closely linked to the Big 5 and Rhino. Visitors will see the need to support a sustainable Trade product which adds value beyond Corporate Purpose.
Our Sincere Appreciation to Staff and Governing Bodies of:
Wakkerstroom Farm School
Robertson Primary
Robertson Voorbereiding Skool
Quote from Robertson:
It was especially meaningful to see both the concern, and the joy, that it brought to the children's faces - making the message meaningful, but fun, seems to be a key balance to the delivery.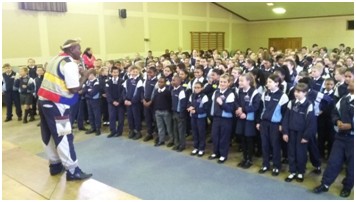 Social media
Twitter: @loverenwines
@4Cousinswine
@Royal_Rhino
@rhinoartgrant