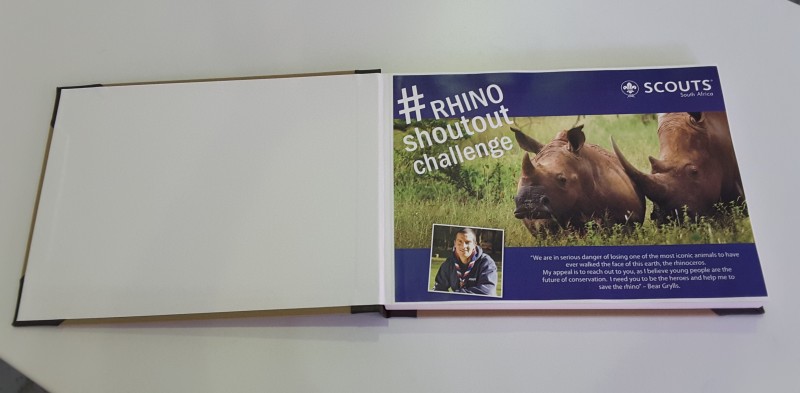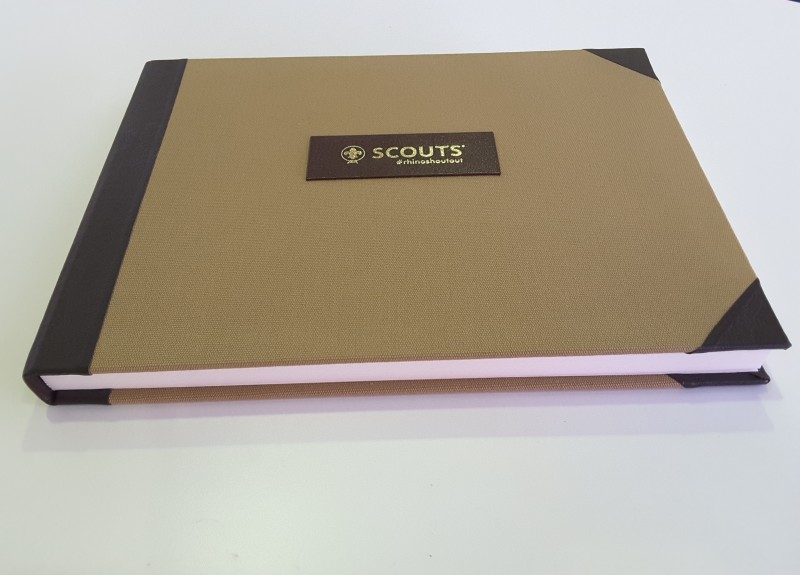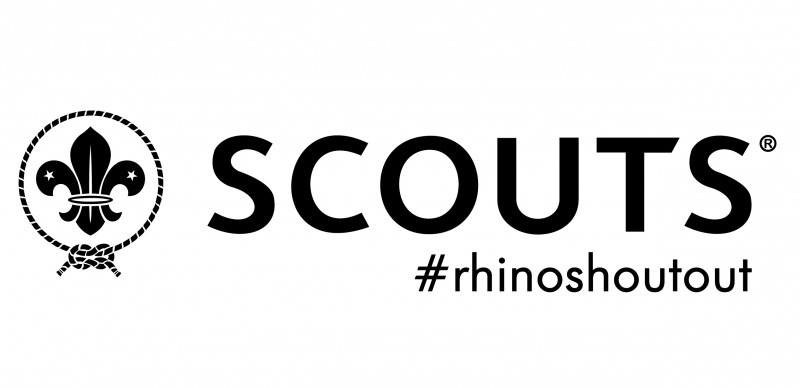 An estimated crowd of a thousand people gathered at Dawn on Parade in the WESSA grounds to unveil the various flags of the participating organizations in true Scouts style. The unveiling of the Scouts, Cubs, Guides followed by a prayer and commitment to uphold Scouts traditions.
Dr Mark Stead, Group Scouter of 1st Howick troop, and Doctor who treated Sharon Price gave a moving tribute to a fallen lady who devoted much of her life to Conservation, Scouts, Guides and Ezemvelo. A plaque in her memory is on the Cairn. Richard Mabanga then preceded to tell the Gathering the importance of the Isivivane in Zulu culture. All Troops were asked to bring a stone to walk silently past the Cairn, to make a wish and pay tribute to the monument that will serve as an important remembrance of our dead Rhino.
In picture-Late Sharon Price at the Bronze Rhino in Imfolizi during the World Youth Rhino Summit 2014.
The crowd moved to the Famous TVG Hexagonal Superdome to the opening Address by Sibusiso Vilane, Chief Scout of South Africa and most famous for being the first black man to Summit Everest. Firstly, three powerful welcome Videos were played of the Rhino Summit, Kingsley Holgate and a Scouts loudest chair came from World Scout Leader Bear Grylls.
Our thanks to Simon Jones of Helping Rhino's UK who managed the Video from UK with Bear. Sibusiso's brief and powerful message was about his former years as a game Ranger and Discovering a lifeless poached Rhino on a game drive one day. This forced him to commit his adventurous life to always fight for Nature and Animals.
Chris Galliers Chairman of GRAA gave us valuable statistics on fallen Rangers the day before World Ranger Day and the Will to never lose sight of the target- and to withhold certain Scouts traditions as portrayed by Founder Lord Baden Powell.
The #RhinoShoutOut resembled a programme similar to previous World Youth Summits organized by Project Rhino and it was a great privilege to have Qadasi and Maqinga playing the Maskandi Music. Watch the brilliant Rhino Art day at a School with Song all about Rhino.
https://www.youtube.com/watch?v=cNkYJ4mTj8Y
A few planned interruptions occurred when Zulu motivator Richard Mabanga rehearsed the Catch phrase for the Shout Out which was Siyabathanda Obhejane-Save Our Rhino! It took many trials but the hype of the audiences Chant lifted to Youth to Another level which shook the foundations of the Retirement village, Amber Valley a short distance away.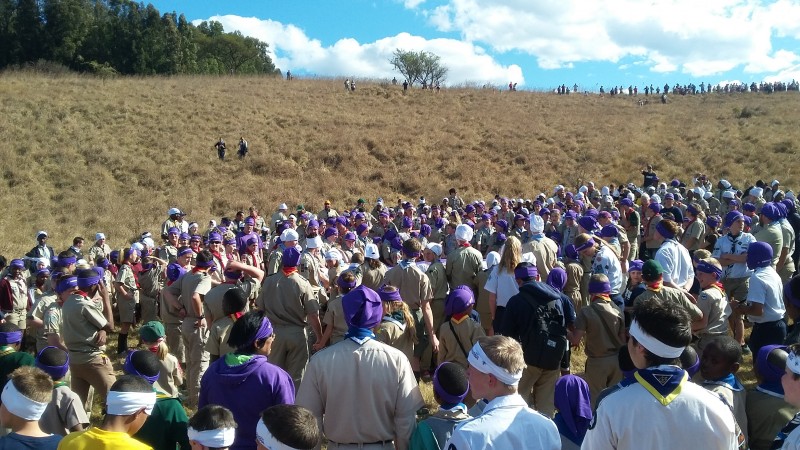 Hundreds of Scouts prepare for the #RhinoShoutOut in the Valley
Sheelagh Antrobus, project Coordinator of Project Rhino KZN, gave a well rounded synopsis of the Importance of the World Youth Declaration and the way in which this amazing Journal, created and designed by Melvill and Moon was to travel to every Scout Country Globally to take the message to all hemispheres. As head of Project Rhino KZN, she handed this important document over to Chief Scout Sibusiso Vilane together Grant Fowlds and Richard Mabanga as credible members of the Rhino Art Team, on stage.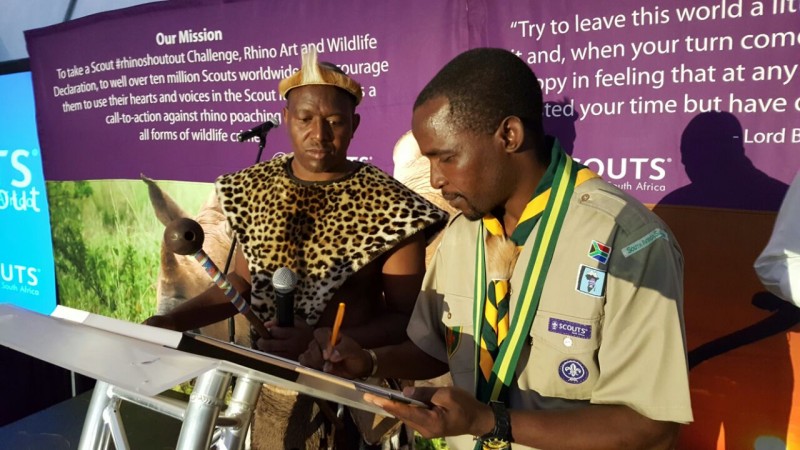 Richard Mabanga looks on as Chief Scout Sibusiso Vilane signs the first page of the Youth Declaration.
After a decent break the big excitement was to Co-ordinate the #RhinoShoutOut with Drones in the Midlands Winter grassveld. This created most of the excitement with teams being separated by buffs of (bandanna) white or purple. The Ring of Scouts had 560 members which will be a challenge to other organizations to try and beat this with a similar message for our Endangered Rhino.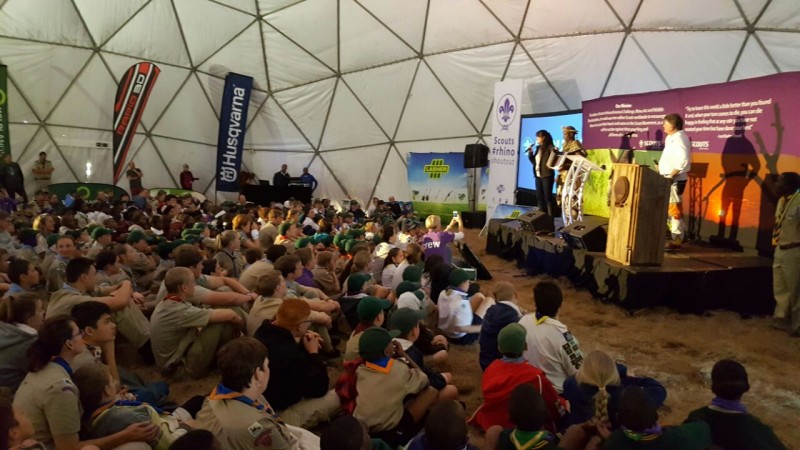 Scene in the TVG Hexaganol dome which has a capacity of 1000 people
Maritzburg College two young Wildlife Heros started a Rhino Conservation group three years ago and two of the Founder members, Jared Robinson and Olwethu Shelembe gave the large Audience a motivating address. They inspired the scouts to have passion and drive to make a difference. Jared was selected to join Operation Game Change in Vietnam in 2015 as an ambassador to Wildfest in Hanoi.
Following in The Rhino aftermath is the media attention and reality of one of Africa's Big 5. Pippa Hankinson is a Producer of Bloodlions- a documentary investigative Movie which has had major impact on the World stage. She gave the Scouts an idea where Cute Cubs and petting end up in the canned hunting Scenario. She then introduced Simone Dale from Wildlands who will head up the Bloodlions Youth programme aimed at promoting No Petting and No interaction with Wild animals.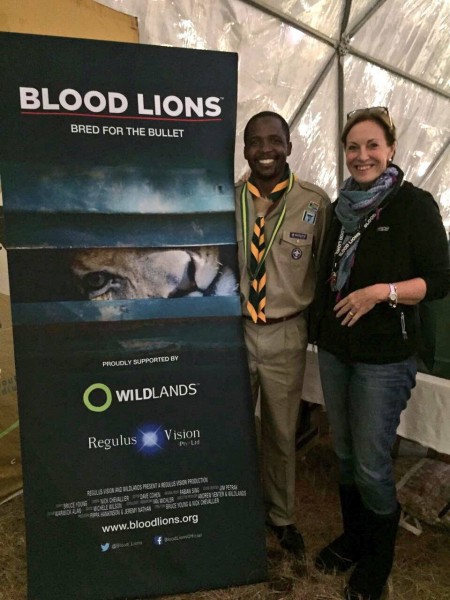 Producer of Bloodlions Pippa Hankinson with Chief Scout of South Africa, Sibusiso Vilane.
The Rhino Art was done as an Awareness project at all the Scouts organizations. Winners were handed bronze Trophies and Gifts in the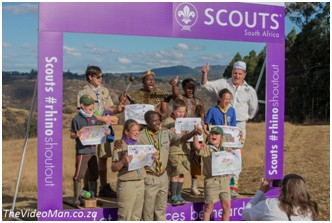 marquee at the final Prize Giving.
Thanks to the sound Relationship with old partners TVG for the Dome, Barrows for Branding, Earthtouch for amazing Video quality. To Wessa who Kindly provided a wonderful facilyt, venue and accomadation for the team. To Rob and Dael Melvill for once again provided the World Youth Declaration Book that will travel to all corners of the Globe with a Vital Message. To Lasher for Anker Support as the main Sponsor and to Wildlands for supporting Chief Scout Sibusiso Vilane.
Call To Action!
Do a small Clip on Your Mobile Phone in Support of a WorldWide Action in Saving Rhino!
A group of friends-or interview and put your clip on Face Book
Scouts #Rhinoshoutout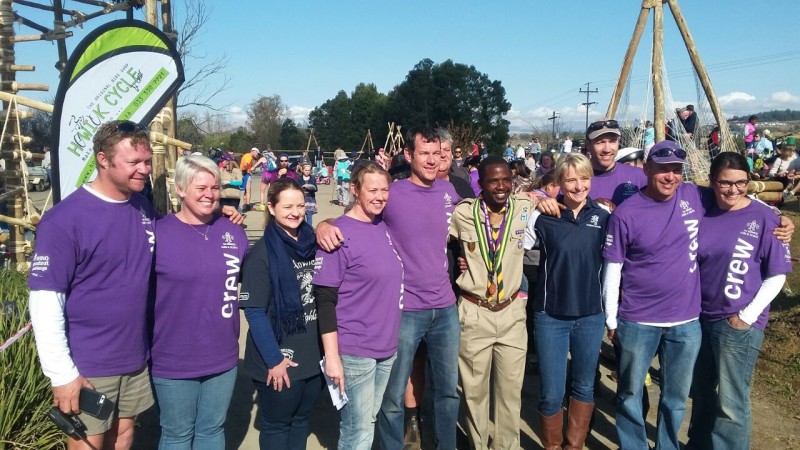 Part of the Amazing Organizing team with Chief Scout Sibusiso Vilane.
(LtoR) Kim Burnie, Lauren Birnie, Erika Rode, Trish Bullock, Brian Bullock, Martin Jacobs (Obscured back) Sibusiso Vilane, Tracey Wood, Dennis Wood, Matt Simmons and Fran Simmons.