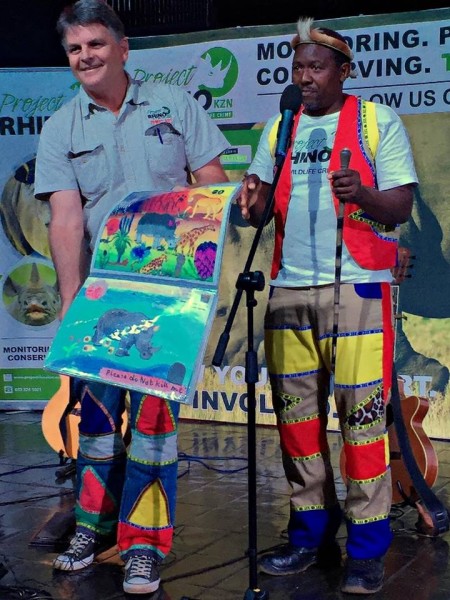 Richard Mabanga and Grant Fowlds give the lecture to Schools on the importance of preserving Our Rhino- Project Rhino does Monitoring, Conserving and Protecting. Rhino Art is the Demand Reduction sector of Community Conservation Awareness.
Some events and News headline from Cites COP17.
1. Proposal by Swaziland to legalise trade in RHINO horn was rejected
2. AFRICAN GREY PARROT voted into Appendix I (in committee)
3. Devil RAYS, silky sharks & thresher SHARKS voted into Appendix II (in committee)
4. All NAUTILUS voted into Appendix II (in committee)
5. EARLESS MONITOR LIZARD accepted into Appendix II with zero export quota
6. Saltwater CROCODILES in Sarawak, Malaysia (only) voted down from Appendix I to II, making it available for commercial trade.
7. Attempt to ban all international trade in LION and its parts, fails.
8. Attempt to give maximum international protection to all African elephants failed.
9. CITES Secretariat mission to Vietnam to review law enforcement efforts and identify priority actions endorsed.
NOTE: Appendix I species cannot be traded internationally for commercial purposes, Appendix II species can be traded internationally but according to rules and quotas
Demand reduction now forms one of the three pronged approach in CITES to combat illegal trade in wildlife. In the picture below, a youth at Hendrik Kanise School in Alicedale pulls the beard of Intrepid explorer Kingsley Holgate to demostrate to the school Rhino ihorn is made of Keratin- horns and hair just like in humans.